Self-Source, Crowd-Source, or Outsource?
---
Posted by MediaLocate | Content Strategy, Cost Savings, Global Marketing Strategy, language localizaiton, Language Service Provider (LSP), Localization, Localization Provider, Translation, Uncategorized, website localization | No Comments October 21st, 2014
---

Self-Source, Crowd-Source, or Outsource?
Smart-Sourcing Your Translation Team.
You are discussing your company's plans for international expansion. You and your team know what it's like to launch products, to conduct market research and to make sure all of the infrastructure and processes are in place for a successful launch of your products and services.
You know that you will need a strong localization team— a set of translators and editors who are specifically suited to your company's projects, industry segment, and launch requirements. And when it comes to looking for the right translators, you have a number of options. You can chose to source the linguists yourself, go to one of those cool localization portals such as Smartling, or use an established language service provider. The choice is up to you.
However, it's not as easy as it may sound and you could end up spending too much, wasting valuable time, and ending up with bad quality.
So we thought it would be helpful to provide you with a simple guide on how to select the right linguistic team….
Just how important is it to get the right subject-matter experts to translate and review your content? Well, just like you probably wouldn't ask a butcher to make you a pair of fine leather shoes, you wouldn't want a translator with a background in agriculture to translate your semiconductor patent.
Let's look at some examples from customers who have told us about their sourcing strategies prior to coming to MediaLocate:
| | |
| --- | --- |
| Sourcing Strategy | Result |
| Customer goes to a generalist freelancer site such as www.elance.com or www.odesk.com | No existing relationship with any of the freelancers, no real way to qualify the linguistic or technical expertise. The customer realizes that freelancer databases cover much too much ground to be able to provide any subject-matter expertise in vetting their talent. Everybody claims to be an expert in everything. |
| Customer goes to a localization crowd-sourcing platform such as Smartling, Gengo, or Transifex | The customer is drawn into the bells and whistles of a tech platform, but quickly realizes that these translators are not linguistic specialists; rather generalists waiting in a queue. The provider's core competency is software development and their language services vetting procedures are limited to working with a series of outsourced teams. You can find out more about the pros & cons of these platforms here: Online Translation Platforms: Innovation or Smoke & Mirrors? |
| Customer goes to a freelance translator database such as ProZ | The customer likes the possibility of contacting translators directly. But then they realize the time it would take to making contact, testing the linguists, managing the relationships, finding suitable editors and reviewers, and making sure that all the teams were available for the project and could actually work together. And that's a lot of work, even before the translation starts! |
| Customer goes to an established expert in language services—an LSP, like MediaLocate | A dedicated Vendor Selection team has built long-term relationships with proven expert linguists and subject matter experts. Existing resources are continually monitored and new resources are added to their database by means of a stringent ISO- and EN-certified recruiting and assessment process. |
While we develop and deploy plenty of  technology, we still pride ourselves on the simplicity of relationships. And we are proud of our over 25 years of experience in carefully testing, vetting, and selecting specialized teams of linguists for our wide range of customers.
Why does that matter?
Well, say you need to find a medical SME (subject-matter expert) for your resuscitation-simulation technology that is used for teaching in hospitals and universities: a complex product that requires strong knowledge in human anatomy, mechanical & electrical engineering, wifi technology, and an instructional/teaching background – oh yeah, and superior language skills. And you're going into 12 countries!
Should you self-source or crowd-source such resources? Probably neither!
Here is a brief list of some criteria MediaLocate looks for and verifies to ensure our customers get the "Best-of-Breed" translators and editors for their important international releases:
Linguistic qualifications: advanced degrees in translation, language, technical writing, or linguistics; professional certifications by associations like the ATA or equivalent in-country bodies or courts
Multiple years of documented experience in their areas of expertise, supported by relevant client experience and credible references
Technical translation expertise and ability to use advanced translation tools
Standard and customized test translations, duly evaluated by approved MediaLocate reviewers
Continual evaluation and dynamic scoring that tracks accuracy, timeliness, and overall service level quality
Have more questions on how to find the best linguistic support for your needs? Call us at 1-800-776-0857 to get started!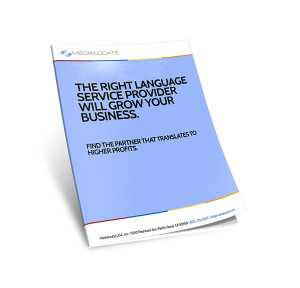 In this free guide, you'll gather the important insights you need to make a smart decision and avoid the pains that come with making a bad choice.

OUR BLOG: ONE WORLD
November 26, 2018
Best Language Selection for Global Markets: Where and How Should You Invest? Guest blog post by Ben Cornelius, Senior Globalization Consultant When asking "What languages should I localize into for the greatest benefits?" the short (albeit frustrating) answer is most often, "it depends". It's true: Communication is key to gaining market traction for all products and […]
FREE guides
How well does your branding travel?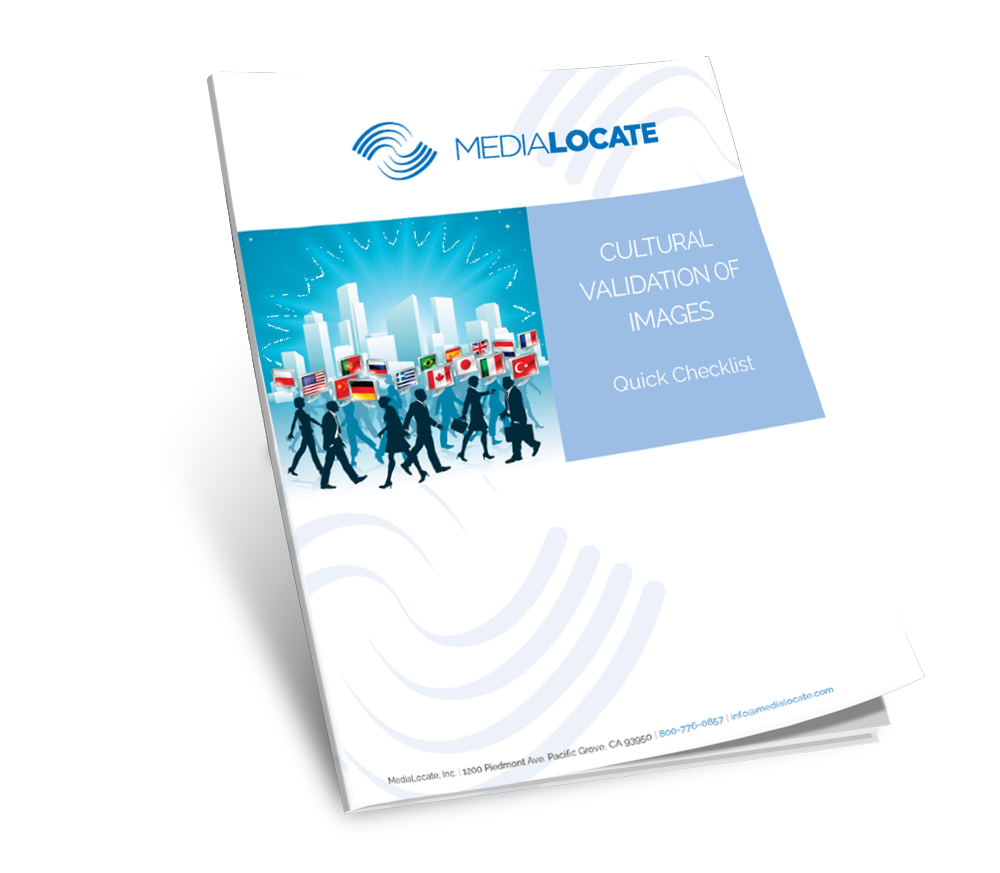 Stay in the Know
Sign up for the latest MediaLocate news.