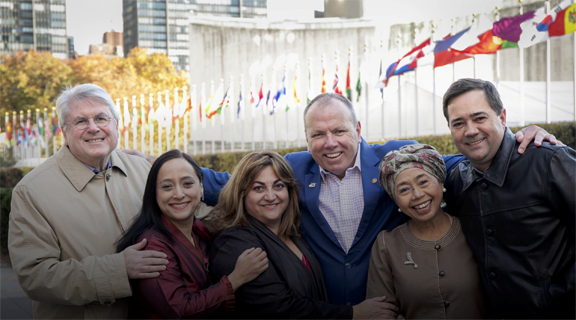 Please join us in supporting people and organizations in need
TRANSLATING WORDS IS ONE THING. Turning words into action is another, especially when it comes to helping those less fortunate than ourselves. That's why all of us at MediaLocate find opportunities throughout the year to make a difference by supporting people in need locally, nationally, and internationally. It's also why we were proud to see one of our own recognized for her local and global impact.
Addressing the Global Refugee Crisis from Monterey
AT THE NOVEMBER CEREMONY in New York City for 2019 Rotary Day at the United Nations, MediaLocate's CFO, Ilge Karancak-Splane (pictured third from the left), was one of 6 humanitarians recognized for creating community-based solutions to the global refugee crisis. Ilge, who was born in Turkey and has lived in Monterey for more than 20 years, was the only candidate from the United States to be included in this select group of "Rotary People of Action: Connectors Beyond Borders."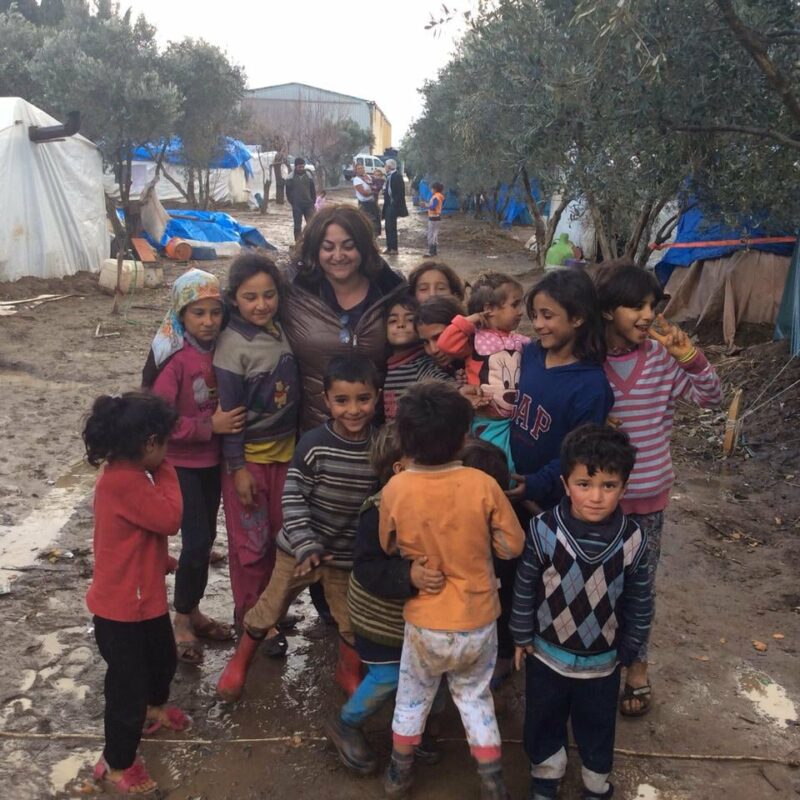 After learning about Syrian children in the refugee camps in Turkey, Ilge spearheaded an effort by her Rotary Club of Monterey Cannery Row to donate 1,000 pairs of shoes and socks to the families in those camps. She went on to organize the "Syrian Refugee Children Education & Integration" project to help educate refugee children in multiple countries. Thus far the program has raised $80,000 to buy musical instruments and computers, fund an auditorium with a projector, and provide teacher-training workshops.
Helping the Needy in Monterey County
NOT EVERYONE ACHIEVES the global scale of giving and caring that Ilge has, but over the years virtually every employee at MediaLocate has volunteered at local charitable events, food drives, cultural festivals, and benefit concerts as well as contributed care packages for our community and our U.S. troops overseas. As a team, we genuinely believe that every small act of generosity counts and that the best thing we can give someone is a chance:
A chance for a happy birthday.
A chance to learn.
A chance to play.
A chance to beat a disease.
A chance to overcome poverty.
A chance for comfort in distress.
A chance for dignity and normalcy.
A chance to be creative.
A chance to dream.
Organizations MediaLocate supported in 2019
Alzheimer's Association

"Together we can end Alzheimer's."

Animal Friends Rescue

"Changing futures for at-risk shelter animals"

Around and Over:

the Midgard Viking Expedition

"Sustainability and Environmental Education"

Ballet Fantasque & Peninsula Ballet Center

"Providing an entertaining theatrical experience for audiences of all ages"

Language Capital of the World Cultural Festival:

"Promoting Monterey as the Language Capital of the World"

Leukemia & Lymphoma Society

Silicon Valley & Monterey Bay

"Cure leukemia, lymphoma, Hodgkin's disease and myeloma, and improve the quality of life of patients and their families"

Monterey Bay Aquarium

"Inspiring conservation of the ocean"

Monterey Peninsula College Foundation

"Putting private and corporate gifts in the hands of educators and students to ensure student success"

Paradise, California | Fire Relief

"Providing relief for those deeply affected by the tragic Camp Fire that has devastated the town of Paradise, California"

Rotary Club of Monterey Cannery

Row Rotary Club of Carmel Sunset

"Serving our community, supporting local and international projects, and reaching out to people in need"

Salvation Army

"Meet human needs in God's name without discrimination"

Special Olympics Northern California

"Enriching the lives of children and adults with intellectual disabilities through sports, education, and athlete health"

TAAC Monterey Bay Chapter:

Turkish Arts and Culture Projects

"Fostering friendship and communication among the American and Turkish cultures"

Teddy Bears With Heart

"Bringing comfort to children in crisis, the forgotten elderly and the terminally ill"

United Way

"Engage the community and focus resources to improve lives in Monterey County"
The Miracle of Giving…
"Don't wait for a miracle…  Be the miracle!"
Please contact us about the organizations we support and how you can get involved.
MediaLocate.com  |  1-800-776-0857 or [email protected]