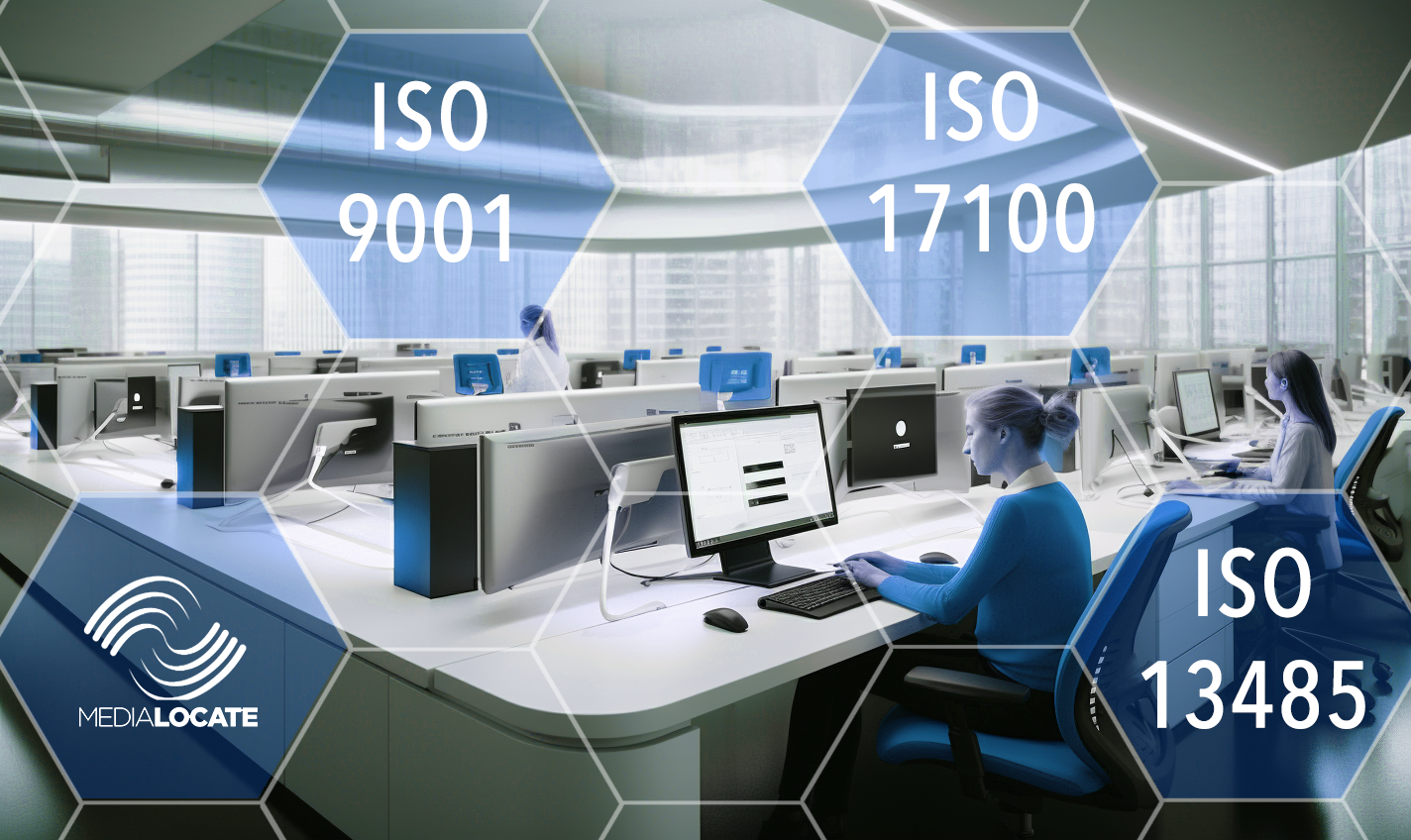 MediaLocate, a leader in translation and localization services, has recently accomplished a significant milestone by successfully passing audits for three major ISO standards – ISO 17100, ISO 13485, and ISO 9001 (Press Release). This achievement is a testament to MediaLocate's unwavering commitment to high-quality management systems and service delivery.
Commendations from ISO Auditors
The company's extraordinary dedication to excellence and quality has not gone unnoticed. Independent auditors of these ISO standards praised MediaLocate for its comprehensive and efficient project management system (MTD), strategic resource management portal, expansive internal knowledge-sharing database, and strong leadership team. The positive feedback from the audit report underscores MediaLocate's proactive pursuit of aligning its operations with international standards, a venture which is paying dividends.
Establishment and Maintenance of Quality Systems
Following an in-depth review of the company's various processes, the auditor concluded that MediaLocate had established a robust quality management system. They also determined that Media Locate has successfully complied with the standards set by the ISO standards. This affirmation of the company's quality management system reinforces MediaLocate's standing in the industry as a reliable and trustworthy service provider.
Overview of new MediaLocate ISO Certification
Let us delve into the specifics of these certifications and their implications. 
ISO 17100

is the internationally recognized standard specifically tailored for translation services. This standard outlines the critical requirements that language service providers must adhere to, ensuring they deliver high-quality translations that satisfy their client's needs. By achieving ISO 17100 certification, MediaLocate has proven its ability to provide superior-quality translations, meeting and exceeding client expectations.

In addition to ISO 17100, MediaLocate also successfully passed the audit for 

ISO 13485

, the international standard for quality management in the medical device industry. This certification is comprehensive in its scope as it covers all aspects of the product life cycle, from design and development to manufacturing and servicing. Achieving ISO 13485 certification signifies MediaLocate's meticulous approach toward delivering high-quality translation services within the stringent, highly regulated medical device industry.

Lastly, MediaLocate achieved certification for 

ISO 9001

, the international standard for quality management across various industries. It is a standard applicable to all types of organizations, regardless of their size, field of activity, or the products and services they provide. ISO 9001's main objective is to enhance customer satisfaction by enabling organizations to consistently deliver products and services that meet customer and applicable statutory and regulatory requirements.
A Pledge to Clients
These ISO certifications not only demonstrate MediaLocate's commitment to quality management, but they also serve as a reassurance for the company's clients. "Achieving these certifications is not just a badge of honor. It's a promise to clients we will consistently deliver the highest quality standard in our services," says Vilma Campos, the company's Engineering & Quality Systems Manager.
Investing in Excellence and MediaLocate's ISO Certification
MediaLocate's investment in securing these certifications and its dedication to continuous improvement has built strong, trusting relationships with its clients for decades.