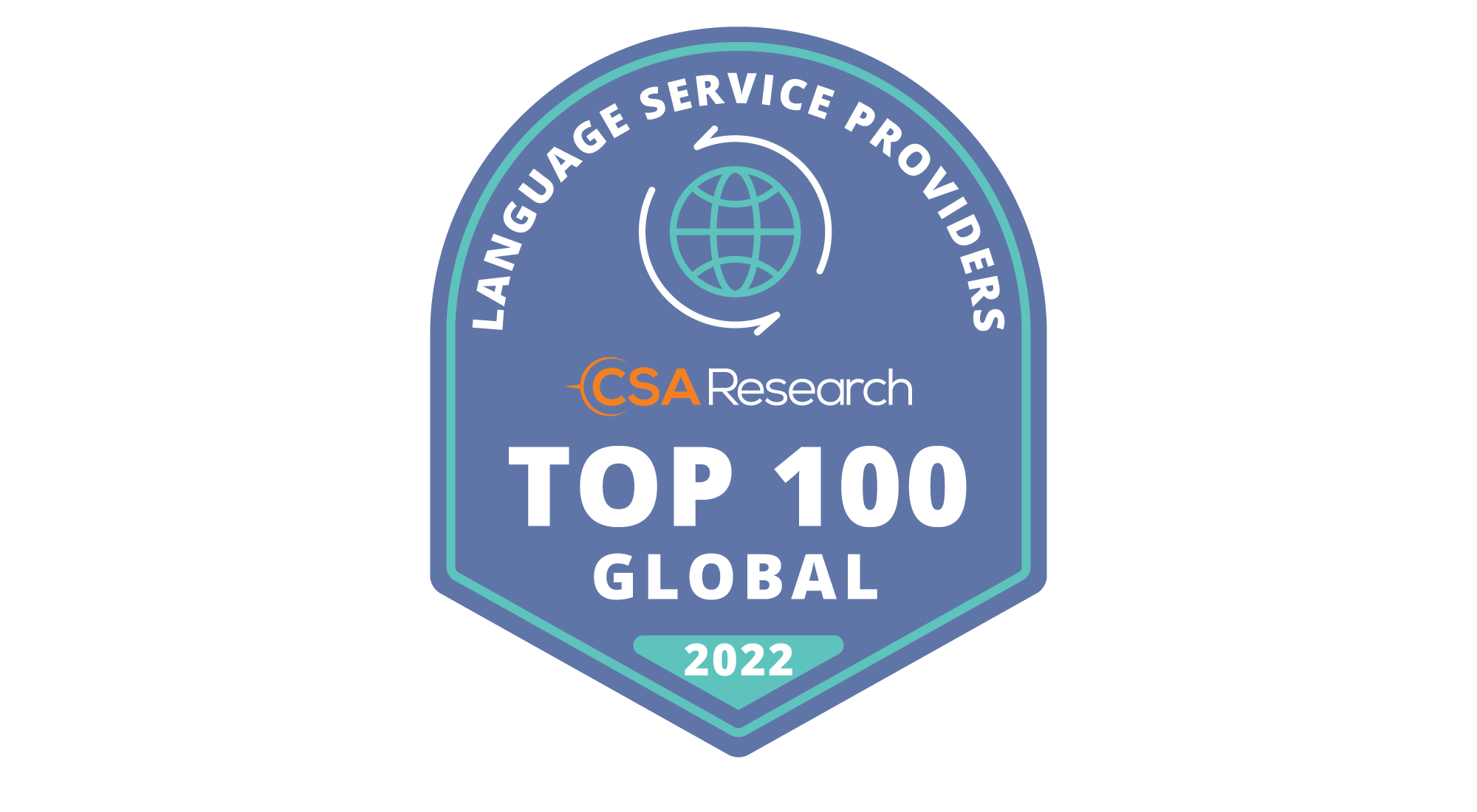 Based on 2021 verified revenues, the annual rankings are the result of the language industry's most comprehensive, large-scale survey of the language services and translation technology market by CSA Research.
Monterey, California – The language services and technology industry include more than 27,000 players worldwide, ranging from boutique local agencies to large global companies. This diverse group of language service providers (LSPs) and translation technology vendors adds up to a multi-billion-dollar global industry.
Based on 2021 verified revenues, independent market research firm CSA Research has named MediaLocate as one of the providers leading the delivery of language services globally, ranking it as the 87th largest LSP in the world and 22nd largest in North America.
"Consistently ranking in the Top 100 language services companies in the world year after year is a testament to our commitment to not just smart growth, but also to stability and reliability. We service our customers with a long-term program view, which has enabled us to grow alongside many of our enterprise clients." said the company's CEO, Stephan Lins.
"Billions of people depend on translation and interpreting for their health, education, entertainment, and shopping," comments Dr. Donald A. DePalma, CSA Research's Chief Research Officer. "Our annual global market study focuses on the multi-billion-dollar language services industry which supports global experiences in other languages, delivering essential translation, interpreting, and localization outsourcing capabilities to organizations and individuals around the world."
Study Methodology
CSA Research uses structured and documented methodologies to ensure independent and reliable data-driven research for language service providers, technology vendors, global enterprises, and investors. The rankings of the largest suppliers are based on confirmed revenue from 2021. This is the 18th year CSA Research has studied the language services industry and the 10th year MediaLocate has appeared in the rankings.
Included in CSA Research's global market study is the ranking of the largest language services and translation technology providers in the world, as well as across seven regions.
About MediaLocate
MediaLocate is a leading full-service localization company that provides technology-driven language solutions to global businesses large and small. From Fortune 500 companies to start-ups positioned to enter the global marketplace, MediaLocate offers proactive language services that minimize delays to market, while managing consistency, compliance, and cost.  [email protected]
About CSA Research
CSA Research, formerly Common Sense Advisory, is an independent market research company specializing in the language services industry. It provides data-based research on globalization, internationalization, localization, interpreting, and translation technology. http://www.csa-research.com | @CSA_Research