MediaLocate attended the recent tcworld China 2023 conference in Shanghai, China. The conference highlighted growing demands for technical communication (TC) and localization (L10n) in response to new EU regulations and the European Green Deal. Among the most exciting trends, we noticed the innovative uses of language models like ChatGPT, demonstrating their capability to automate and enhance various writing tasks. Our favorite products and solutions showcased at the conference were: Huawei, Rigi.io, and VMware. Overall an impressive conference with plenty of great content and, as always, an excellent opportunity to strengthen and expand our network of international experts and friends.
The Green Future: The Increasing Need for Technical Writing and Localization
Driven by the new EU regulations, the demand for technical writing and localization is on the rise, significantly influenced by several aspects of the European Green Deal:
Circular Economy

: Technical writers are now tasked with outlining the environmental costs of a product, covering its entire lifecycle from inception to end.

Right to Repair

: There is a growing need for manufacturers to produce repair manuals for their products.

Digital Product Passport

: This involves manufacturers providing essential product information, including materials used, energy consumption, and sustainability factors.
Empowering Workflow: The Impact of Large Language Models
Technical communicators are finding innovative applications for ChatGPT in their workflows. Through integrations with Computer-Assisted Translation (CAT), Translation Management Systems (TMS), and Content Management Systems (CMS), ChatGPT is proving itself invaluable in various ways, such as:
Enhancing sentence conciseness

Assisting in adjusting sentence length for subtitling

Spotting syntax errors in code

Authoring blog posts in multiple languages simultaneously

Suggesting potential blog post titles

Summarizing or abstracting lengthy articles

Substituting idioms and metaphors with plain language

Crafting social media posts for multiple platforms while accounting for style, character limits, and target audiences on processes

Recommending synonyms for words or phrases

Rephrasing sentences in multiple ways
However, ChatGPT is not a source of absolute truth nor a search engine; it's more accurately described as a text fragment assembler.
While ChatGPT possesses translation capabilities, it differs from Neural Machine Translation (NMT) in significant ways. ChatGPT excels in translating into English, while NMT has the upper hand in other languages. Furthermore, while ChatGPT is built to handle a broad range of tasks and instructions, NMT focuses strictly on accurate and fluent translations.
Products Highlights in Technical Communication (TC)
At tcworld, we learned about the recent evolutions of existing products and the arrival of new products approaching the localization market for the first time. Here are some of our favorites:
Thanks to the integration with their technical documentation,

Huawei

's in-vehicle voice assistant indicates that technical communication is steadily transitioning from static paper or digital copies to interactive Q&A. Users can now engage with trained voice assistants to receive detailed answers, complemented by relevant diagrams or images displayed on their navigation screens.

Rigi.io

is an impressive tool that accelerates in-context linguistic QA. It provides functionalities like HTML previews, multilingual screenshot export, and direct change receipt from reviewers. Notably, Rigi also allows in-context previews for translators.

Presenters from

VMware

highlighted some best practices for designing visuals for technical documentation, including a recommendation that technical documentation should include a visual approximately every 200 words. They also listed four main types of recommended visuals: flowcharts, diagrams, icons, and screenshots.
Addressing Documentation Challenges
Here are some interesting facts and notions about technical communications we learn at the conference. 
Company knowledge can be categorized into three main areas:
People: Implicit knowledge with limited availability

Files: Explicit knowledge with somewhat available access

Databases: Explicit, fully available, and queryable knowledge
Watch for these symptoms of inadequate documentation or documentation processes:
Lack of information

Inaccurate information

Outdated information

Information overload

Wrong media format
Documentation has three levels of quality. It must be:
Grammatically correct, fluent, and accurate

Logical and consistent

Usable
Documentation owners can use corpus analytics to score the readability of documentation. While documentation writers can ask ChatGPT to suggest changes to the text to better conform with technical writing style guides.
Conclusion
Attending an international localization conference such as tcworld, always provides many opportunities to get an update on the most critical trends while meeting old friends and making new valuable professional connections.
Photos from tcworld China 2023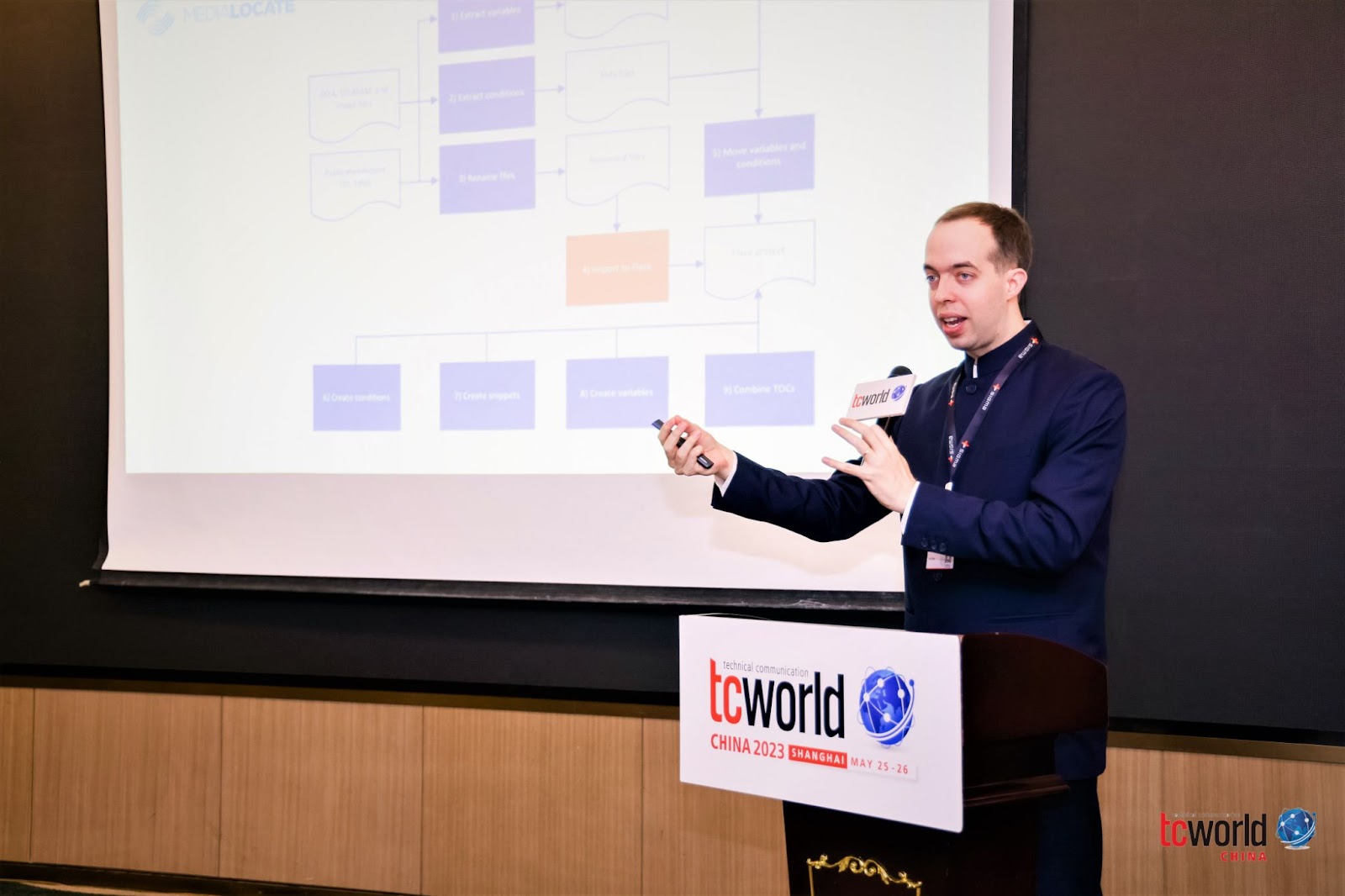 About 50 people attended MediaLocate's Nick Lambson presentation in the technology room. Several attendees asked the speaker how to transform unstructured content into structured content like DITA, XML, or Flare. The Chinese technical communication market faces this challenge, as most Chinese companies still use Microsoft Word for their tech docs.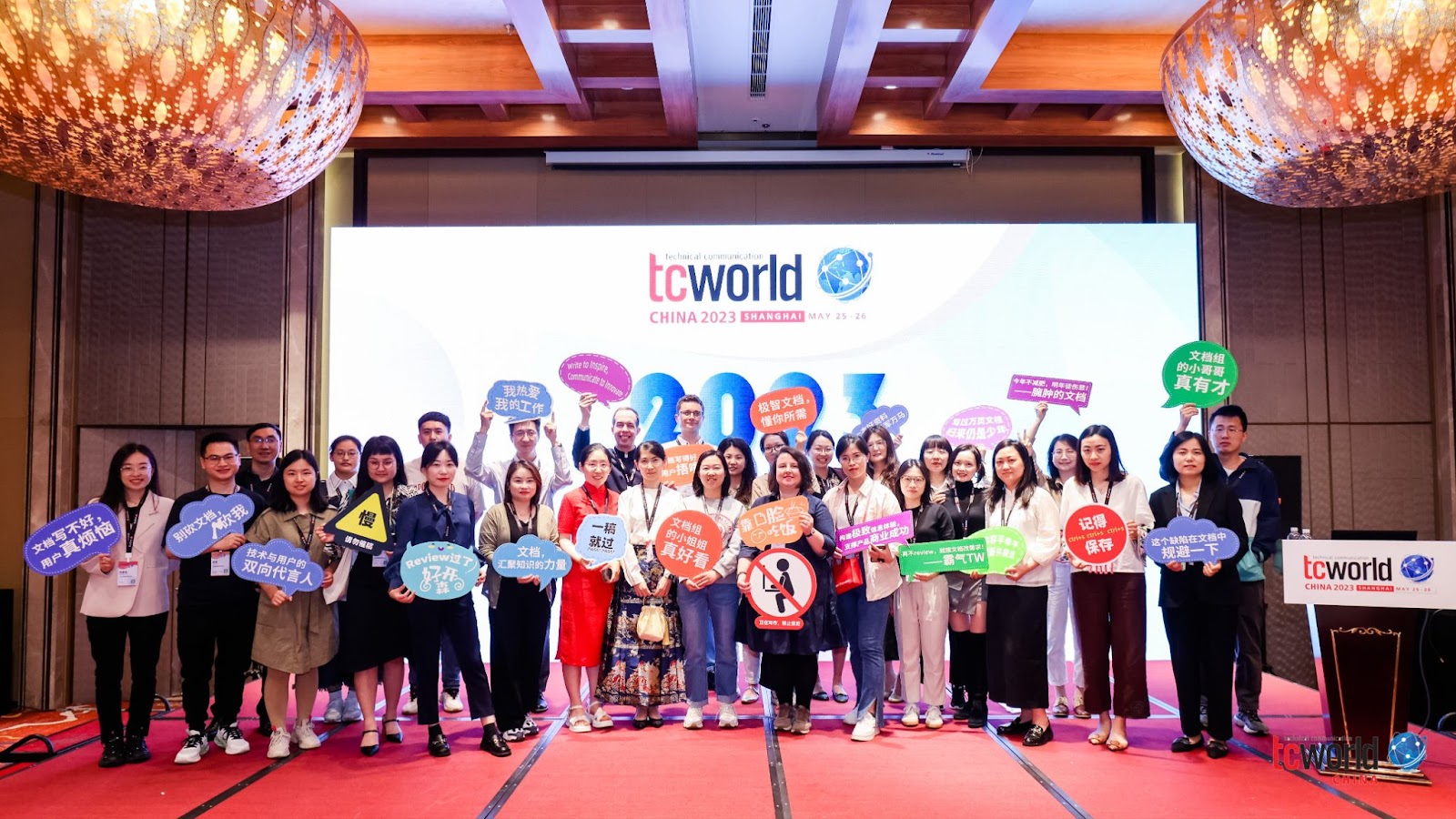 The tcworld China 2023 conference venue was the Marriott Courtyard Hotel in Pudong, Shanghai.Some gentlemen from the conference: a Ukrainian, a German, an American, and an Italian. Shanghai is a marvelous place.