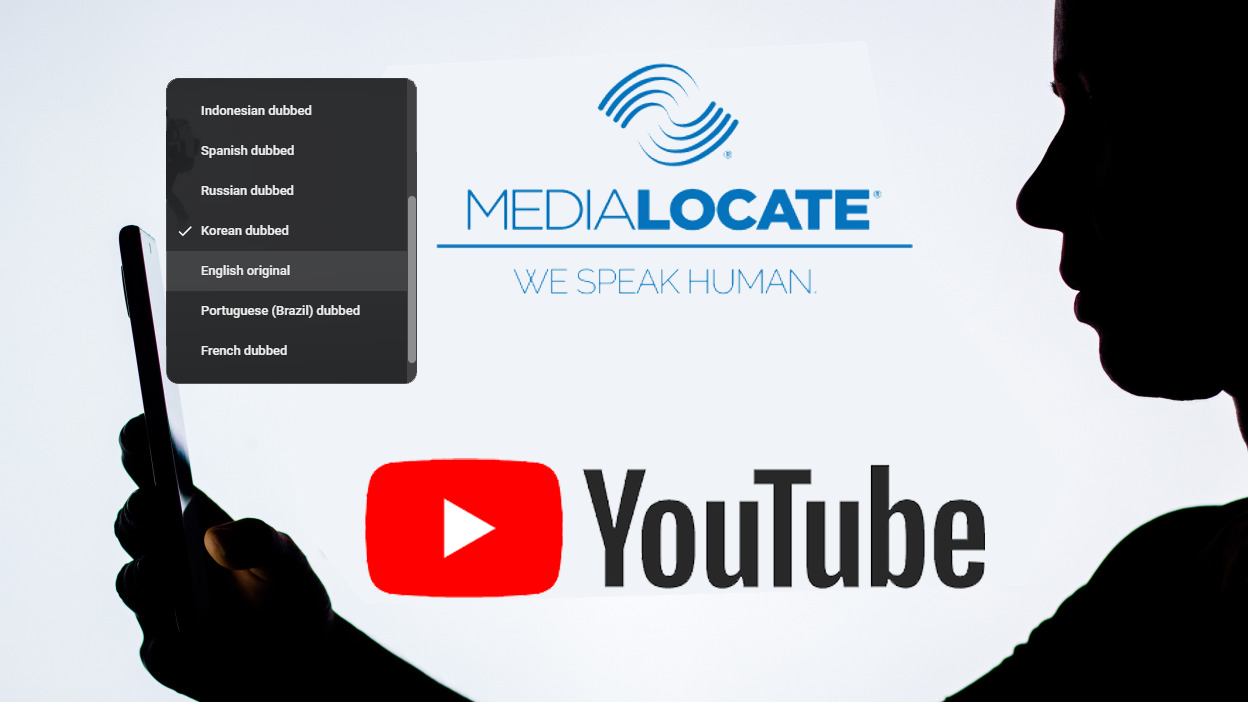 Actually,
With a global audience of over 2 billion viewers on YouTube, the platform has recently introduced a new feature for all international content creators to add dubbing to their new or existing videos. In an era where a global majority of people can speak more than one language, this is a significant leap forward for independent and major entertainment companies. There are tangible benefits for small to large TV and Film production companies, and YouTuber icons by including audio localization into their brand and marketing strategies.
How YouTube audio dubbing works
In the past, companies wanting to localize the audio track of any video had to upload separate video files for each language version they intended to display. This old process requires copying all of the metadata and descriptive information across all versions and diluting the overall viewer counts and community engagement across each video version.
Now, YouTube allows content creators to upload different audio tracks that can be played within the same video, allowing viewers to select the language track of their choice. This new feature has been a way to help content reach an international audience where the originally recorded audio language isn't widely spoken in their respective territory or country. With YouTube's global expansion of supporting multiple languages, any content creator can now expand their local reach without losing any meaning in translation by creating multi-language supported videos.
What are the benefits of YouTube dubbed videos?
Why would you want to do that? Suppose you focus your content and social media brand on a particular niche. It would help if you took advantage of the millions of potential viewers. They can now watch and listen to your video in their native language. Multiple audio tracks will alleviate obstacles to global social media engagement and provide organizational benefits by limiting the clutter of numerous video versions.
YouTube has been encouraging creators to consider adding and uploading dubbed videos. As 40 different languages have been featured throughout YouTube dubbed videos, the results have been promising, and creators have seen that dubbed content is starting to gain traction. Actually, YouTube claims that since January, its users have watched over two million hours of 3500+ dubbed videos daily.
Do dubbed videos perform better?
Test groups of creators have also shown very positive results. They reported an increase of more than 15 percent of their views coming from dubbed videos being watched in a language other than the originally recorded source language. If YouTube continues to consider localization as an important part of social media strategy, gone will be the playlists containing "Video [English Version]" and "Video [Spanish Version]," and will be replaced with a single, streamlined page that captures all of the viewership in one place, globally.
How can we help you create professionally dubbed videos?
How can MediaLocate help with your social media brand, TV, or film content? We can support your needs with our Studio Production team by providing audio dubbing services for your YouTube video. Each project would be treated with customized care to meet the needs of your specifications, content, and expectations.
MediaLocate can provide the following support for your video and digital media:
English Closed / Open Captioning and Subtitle Creation

Full dubbed audio production, including script adaptation, voice casting, direction, editorial, mixing, and delivery.

Script Creation – ABS, Dialog, CCSL, CDSL.

Audio Description

Metadata translation for digital distribution

Video Localization
YouTube videos with audio dubbing examples