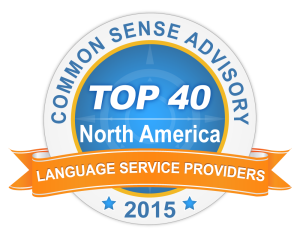 Independent market research firm, Common Sense Advisory, recognizes MediaLocate as a leader in $38.16 billion global industry
(Pacific Grove, CA) – MediaLocate announced today its official ranking as one of the largest language services providers (LSPs) in the translation and interpreting industry. Issued July 2015 by independent market research firm Common Sense Advisory (CSA Research), the report titled "The Language Services Market: 2015" ranked MediaLocate as a top-grossing language service provider in the $38.16 billion global market for outsourced language services and technology. Globally, there are over 20,000 language service providers and MediaLocate was named as the 22nd largest provider in all of North America, and 85th largest worldwide.

CSA Research, which has published market size estimates and global rankings for the past 10 years, found that the demand for language services continues, and is growing at an annual rate of 6.46%. As part of the study, the firm surveyed language service providers to collect actual reported revenue for 2013, 2014, and expected revenue for 2015.
From Fortune 500 companies to start-ups positioned to enter the global marketplace, MediaLocate offers proactive language services that transform any company's communication, written or spoken, to the native languages of its customers, partners, and employees around the world – in a consistent, fast, and affordable way.
MediaLocate's CEO, Stephan Lins, added: "We are extremely proud to be recognized as one of the more significant players in our space, and we also realize that this accolade is not a one-time achievement, but one that is earned over many years and must be proven on a daily basis."
"The market for outsourced language services and supporting technology is immensely important to the businesses, government agencies, non-profits, and individuals that produce or consume information," comments founder of CSA Research, Don DePalma. "As organizations both large and small address more languages, we predict that the industry will continue to grow and that the market will increase to US$49.8 billion by 2019."
The full report, including all regional rankings, is available as part of the firm's research membership.
About MediaLocate, Inc.
MediaLocate is a full-service translation and localization company that provides technology-driven language solutions to businesses seeking to attract and engage global customers. www.medialocate.com / @medialocate
MediaLocate Media Contact: Susan Hanson, Susan@medialocate.com
About Common Sense Advisory
Common Sense Advisory is an independent market research company specializing in translation, localization, interpreting, globalization, and internationalization analysis and consulting. www.commonsenseadvisory.com / @CSA_Research
CSA Research Media Contact: Melissa Gillespie, Melissa@commonsenseadvisory.com