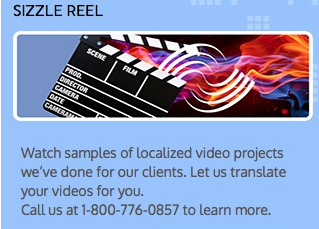 Is Video an Important Part of Your Localization Strategy?
If not yet, it soon will be.
Video is the most popular, most commonly "consumed" form of multimedia worldwide.   Video should be enhancing – even replacing – much of your website's localized text content.
Here's why:
Localized video quickly gets across to your limited English speaking viewer not just information, but also your enthusiasm for your product or service.  It "shows" your global customers what you want them to know, which is far more powerful than just telling them.
Video is memorable.  It makes you stand out from your competitors, making you more memorable in the languages your clients speak.  It gives the viewer a chance to see and hear you, quickly beginning the process of trusting you.
Video is the best tool to demonstrate your product online, making it more real and believable.  It can help you insert charm, appeal and personality into your marketing, engaging the view with both sight and sound.
Video is far more likely to be shared via social media, increasing your audience as well as your engagement.
Now, ask yourself: "Shouldn't WE be doing this?"
If the answer is "Yes!" or even "Maybe" – Call us at 1-800-776-0857.
More Medialocate clients than ever are translating their websites into other languages. And when they do, they localize all their multimedia content assets:
Videos and Audios
Commercials & Infomercials
Video games in all formats
Virtual tours
E-learning
Audio books
Podcasts
and much more!
Medialocate offers a wide variety of in-house recording options – a cost-effective alternative to pricey recording studios.
Check out our Audio & Video Services for all your multimedia localization here: http://www.medialocate.com/services/audio-and-video/
Or, call us at 1-800-776-0857.
Medialocate Means Multimedia Localization!