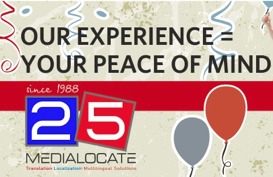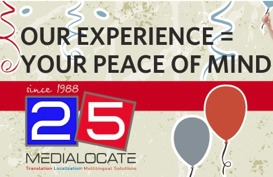 Pacific Grove, Calif. – (September 26, 2013) – Medialocate USA, Inc. announced today that it has expanded its Engineering, Project Management, Marketing and Sales support in newly opened Florida and New Jersey-based offices.
The announcement was made by Stephan Lins, Medialocate's chief executive officer who said: "With a growing number of East Coast clients, and the potential of more coming aboard, it just made good business sense for us to establish an engineering and project management team in two of our key markets there."
"Medialocate's growth has primarily been organic within California's Silicon Valley, and our company intends to open additional offices in other metropolitan areas as they mature and become strategically important for us and our clients" Lins said.
Regardless of location, the firm's Client Control Center – "myMediaLocate" – can support customers anywhere in the world with 24/7, finger-tip information about their projects, schedules, budgets and savings.
myMediaLocate's features and client benefits include:
Comprehensive cost-savings and translation memory leveraging by project, language, and content
Easier online project submittal, approval, and initiation with either hierarchical, regional or divisional stakeholder authority
Detailed project and progress status, including client or third-party review, by language and component
The myMediaLocate localization control center is furnished to all clients at no additional cost.
Celebrating 25 years in the language service industry, Medialocate serves the translation and localization needs of such global business leaders as Salesforce.com, Seagate, Sony, Adobe, Biomet, Dow Corning, Textron, McGraw Hill, and ADP.
These and other Medialocate clients benefit from such globalization services as:
Global Strategy Planning
Documentation Translation
Website Localization
Software Localization
Linguistic Testing
Audio/Video Production
Multilingual Publishing
Translation Automation
Staff Augmentation
Medialocate's continuously upgraded standards are tested regularly and certified by independent third-party auditors, conforming to all requirements for ISO 9001:2008, 13485:2003, and EN 15038:2006.

About Medialocate USA, Inc.
Medialocate, with 25 years of intelligent growth and continuity in the localization business, has an impeccable staff retention record and an enviable list of client case studies. Virtually all of its project managers have earned MA degrees in Translation, Interpretation, or Localization Project Management from the prestigious Monterey Institute of International Studies (MIIS), a combination of graduate schools in Monterey, California focused on language and cross-cultural business communication. This gives Medialocate clients a distinct advantage as the company's staff understands not only customer language needs, but their business needs as well. Clients say "this makes a world of difference!" To contact Medialocate about your organization's translation needs, call 1-800-776-0857.