The county is now, officially, the "Language Capital of the World."
As announced in the Monterey Herald this morning, the trademarked slogan was approved by the Library of Congress after a comment period came and went, Monterey Deputy City Manager Danial Pick announced last week.
With its renowned Monterey Bay Aquarium and Jazz Festival, historic Cannery Row, beautiful beaches, fine restaurants, wineries, art galleries and famous area golf courses (Pebble Beach), Monterey is visited by millions of tourists each year.  What many do not know is that Monterey is also home to the greatest collection of foreign language assets in the world.
Monterey has been called the "Language Capital of the World" because it is directly involved with a full 25 percent of the nation's post-secondary learning in languages other than English. Monterey organizations, including MediaLocate, play a major role in delivering translation (written word) and interpretation (spoken) services around the globe.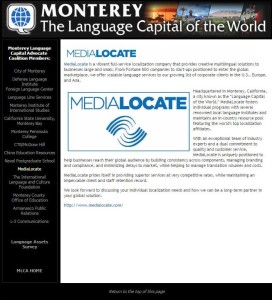 Read the full article here:  Monterey Language Capital of the World