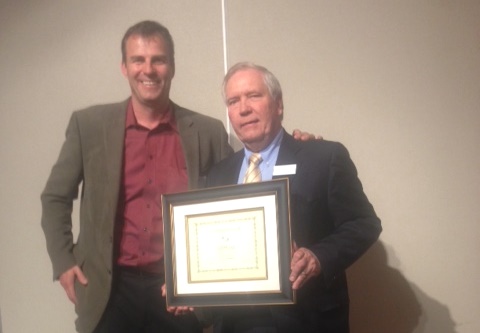 Jeff Wood (right) receives the "Commitment Award," presented by MediaLocate's CEO, Stephan Lins, at the 2015 Career Fair Employer Luncheon.
A Legend Retires: Announcement made at 2015 MIIS Career Fair.

More than 200 students and alumni of the Middlebury Institute of International Studies at Monterey (MIIS), formerly known as the Monterey Institute of International Studies, attended this year's Translation, Interpretation & Localization Management Career Fair 2015. The Career Fair, which took place on February 27th at the Monterey Conference Center, saw 55 employer organizations and over 100 employer representatives, who were on the lookout for top-notch talent. MediaLocate is one of only two organizations that have been represented at every job fair since its inception 21 years ago, supporting the Institute in its efforts to connect corporations, foundations, government agencies, NGOs, and nonprofits to the Institute's students and alumni. Many of MediaLocate's own in-house and freelance resources carry a degree from MIIS.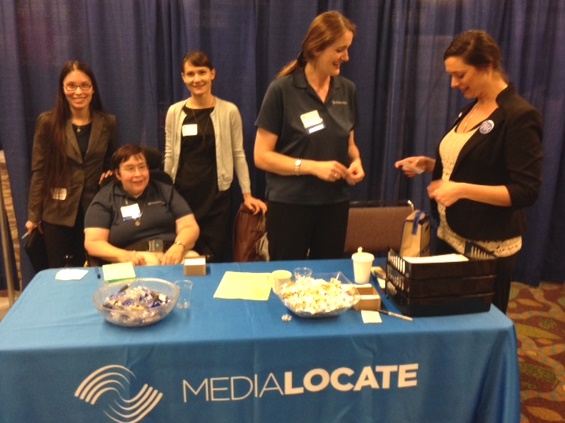 Vendor Manager, Leona Zacek (2nd from right) attends to visitor inquiries, while Terminology Manager, Cindy Brown (2nd from left), enjoys a visit from current and past MediaLocate interns.
This year, MediaLocate was one of the main sponsors of the Career Fair luncheon, which was organized in honor of Jeff Wood, the Institute's Career and Academic Advisor. Jeff has been advising and consulting MIIS Translation, Interpretation and Localization Management students and alumni for nearly 30 years and has become somewhat of a "campus legend" among the Institute's students, graduates, and staff. "There is no TILM student who will not remember Jeff. He has had an immense impact on the lives and careers of countless MIIS students and graduates. He has been an instrumental link between MediaLocate and the MIIS student and alumni body. We will be forever grateful for Jeff and for our partnership he's helped build over so many years,"  said Stephan Lins, Medialocate's CEO.  MediaLocate maintains the longest continuous MIIS internship program and has hired many of its graduates over the years.
During the luncheon Jeff received the "Above and Beyond" Award from the Institute, and is the only person to ever win it twice.  MediaLocate also honored Jeff with its own "Commitment Award" for his excellence in career development.  Jeff was further awarded "Staff Emeritus" status,  extended for exemplary work performance and outstanding, loyal, and dedicated service to the Institute.  Only three persons have ever received this honorary status in the history of the Institute.