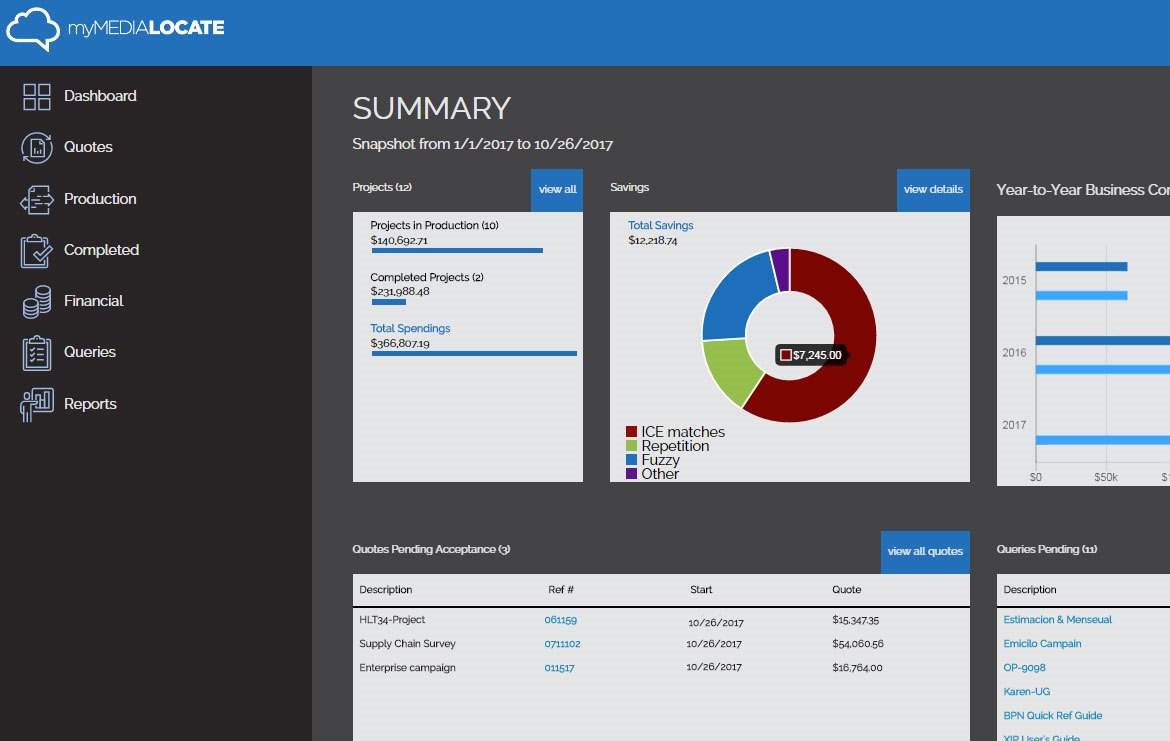 – myMediaLocate 2.0 Improves Visibility and User Experience for Large Localization Programs –
Enterprise localization programs must be efficient, agile, and above all, measurable. No longer can companies afford to work in departmental silos, not being aware of what other divisions do and not optimizing translation leveraging across a company's linguistic assets.  To that end MediaLocate has just released version 2.0 of its popular myMediaLocate Client Intelligence Portal.

The 24/7 cloud-based control center provides enterprise clients with clear visibility into:
detailed milestones and deadlines for all projects in progress
project directories: submitted and delivered files
terminology databases
YTD localization spend by language, region, or department
up-to-the minute translation memory savings: company-wide
tracing of all quotes, project billings and purchase orders
The new dashboard makes it easy for clients to request quotes, launch projects, and track project files, all with the click of a button. Whether projects arrive via the myMediaLocate portal, via a client CMS, via FTP, or via email, all project information is captured and displayed in one central location, with hierarchical access by regional or divisional stakeholders.
One of the powerful new features of the portal is the ability of authorized users to deep-search client specific terminology databases and translation memories in order to aid and speed up linguistic queries. Designed with a friendly user experience in mind, myMediaLocate empowers customers with project, financial, and linguistic data that simplify complex localization programs.
For a brief myMediaLocate animation, click here.
To schedule a demo, please contact us at  1-800-776-0857 or [email protected].
Related Posts: