PACIFIC GROVE, CA – February 28, 2013 – Medialocate USA, Inc. announced today the release of the myMediaLocate Client Control Center in an ongoing effort to save clients time and expense with 24/7 online access to all localization and translation projects.

Features and Benefits
Comprehensive cost-savings and translation memory leveraging by project, language, and content
Online project submittal, approval, and initiation with hierarchical, regional or divisional stakeholder authority
Detailed project and progress status, including client or third-party review, by language and component
myMediaLocate is offered to all clients at no additional cost. This proprietary online portal provides an automated project lifecycle solution to manage all projects in real-time. myMediaLocate has been developed over the past 15 years into an unrivalled proprietary virtual repository of all project components.
"myMediaLocate enhances client control by maximizing savings both in terms of money and time," said Stephan Lins, Medialocate's CEO. "It's the ultimate demonstration of respect for clients—proactive monitoring of our progress from project inception to completion. We believe they will be satisfied—and delighted."
Medialocate's clients can count on these turnkey services for their website, software, social media, Marcom, Audio/Visual, interpretation and even global strategic planning needs.
To learn more about the newest edition of MyMedialocate client control center, call 1-800-776-0857 or visit www.medialocate.com/my_medialocate/
About Medialocate USA, Inc.
Medialocate, with 25 years of intelligent growth and continuity in the localization industry, has an enviable list of clients. It is a leading provider of translation, localization and multilingual publishing services for global leaders in IT, healthcare, finance, including Adobe, ADP, Biomet, Dow Corning, McGraw-Hill, Salesforce.com, Seagate, Sony, and Textron. It manages some of the largest localization programs on earth, but remains dedicated to delivering personal service to every customer, every day.
Medialocate pledges to get your work done right—and clients say "this makes a world of difference!" To contact Medialocate about your organization's translation needs, call 1-800-776-0857 or visit medialocate.com.
###
Contact Information:
Stephan Lins, CEO
Medialocate USA, Inc.
1200 Piedmont Avenue
Pacific Grove, CA 93950 USA
Phone: 1-800-776-0857
Email: info@medialocate.com
---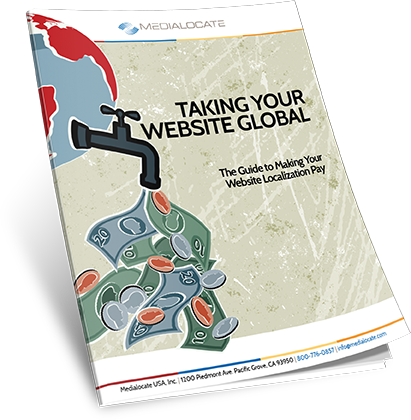 Learn the fast, efficient, and most effective way to translate your website
and online content into additional languages.
---