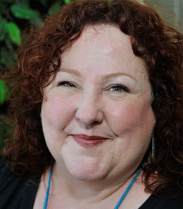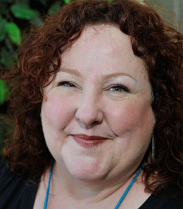 In Memory of Mary Beth Gilmore
Our Dear Friend and Valued Colleague
b. July 27, 1964 – d. June 21, 2013
Mary Beth spent her childhood as a Navy brat
and the youngest of five children of Roger and Elizabeth (Ibby) Gilmore.
Raised in the East and Midwest, she achieved her Bachelor of Arts at Carnegie Mellon University in Pittsburgh in 1986.
The central coast of California became her home where she lived in Santa Cruz, South San Francisco and, finally, in Pacifica.
A talented singer, Mary Beth was the first to "sing for her supper" in her first team meeting at Medialocate, a tradition that remains to this day.
Her specialty, in both business and in life, was to nurture very close relationships with those she came into contact with, day in and day out.
One of Mary Beth's great pleasures in life was spirited conversation – whether it be about her beloved Pittsburgh Steelers, her favorite barbecue recipes, correct English grammar or the Grateful Dead – and we're all going to miss that.
She had a keen competitive nature that always gave way to being the ultimate team player.
She loved animals, particularly her cat and German Shepherd which she had rescued.
She was passionate about her clients and in delivering extraordinary service.
She had spent more than 12 years in the localization industry, spoke German, loved technology and knew her business extremely well.
One client of Mary Beth's once said "Without trying to make Mary Beth blush, she's probably the best person I've dealt with in any business! I've dealt with printers, translators, writers, editors, and graphic designers, and so far nobody's made my job easier."
Another in the U.K. wrote upon learning of her passing:  "Mary Beth's warmth reached across the Atlantic, our relationship was much valued from my side and I'll miss her as someone who, although we were thousands of miles and 8 time zones apart, was the easiest person in the world to speak to as if we were just around the corner from each other."
Mary Beth's role model was her father, a Navy man for 35 years and from whom she learned that integrity, truthfulness and trust are everything. She lived by those principles every day.
Mary Beth was our friend and valued teammate, and we will miss her dearly.
Rest in Peace, Mary Beth – And Thank You.
A memorial service for Mary Beth will be held at the Historic Pedro Point firehouse, 1227 Danmann Avenue, in Pacifica, CA on August 3rd, 2013 at noon.
Arrangements for memorial donations in Mary Beth's name have been made with the Peninsula Humane Society at the following link:
http://phs-spca.kintera.org/donate
If you knew Mary Beth, feel free to leave a comment.