Medialocate's team of project managers knows the importance of reference materials, diagrams, photos and illustrations for better medical translations.
They communicate with dozens of professional translators every day, resolving questions about client projects, ensuring the quality of each translation, and decreasing the time it takes to deliver the final product.
To keep up to date with the latest technologies, project managers attend several training meetings each year with clients and other organizations at Medialocate's California headquarters.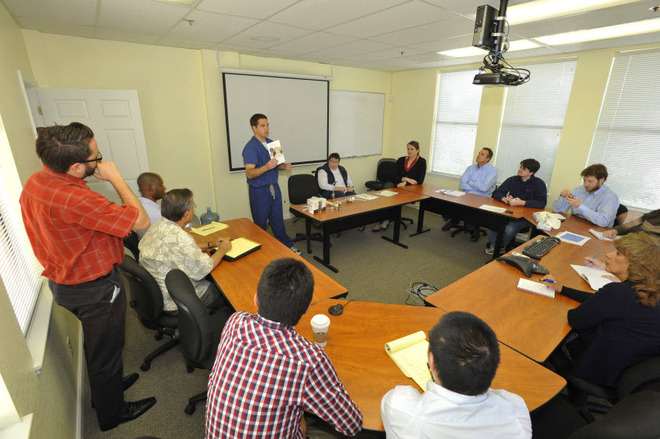 Above: Brian Neff, surgical implant consultant, explains to Medialocate team of linguistic resources, content writers, and editors (all of whom hold degrees in translation or language) how product information benefits from the use of photos, illustrations, and videos for both patients and medical professionals.
Above: Demonstration of an artificial hip transplant.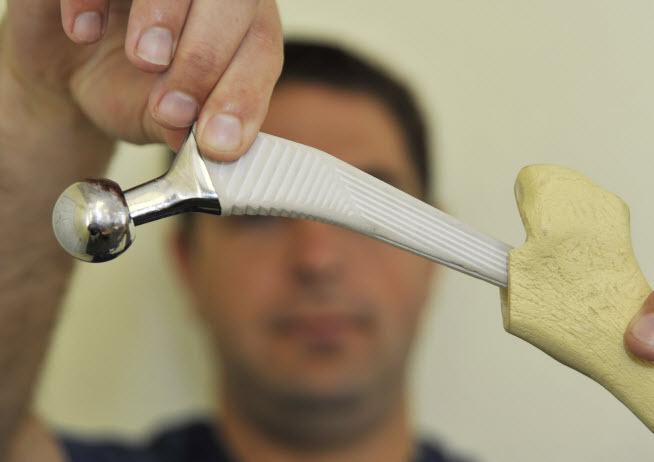 Above: Displaying the femoral stem component which replaces a large portion of bone in the femur, and is the load-bearing part of the implant.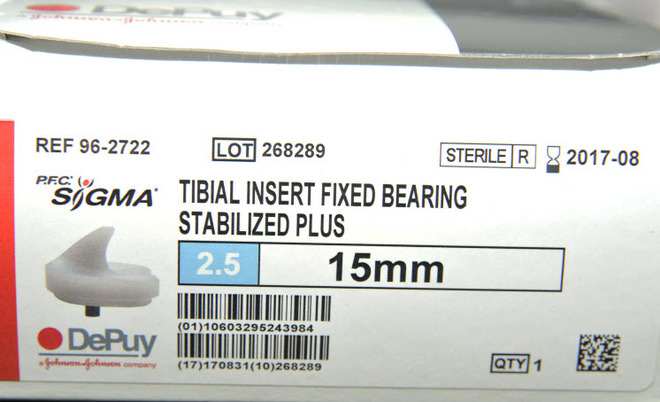 Above: Better medical translations of documentations and labeling benefit by images and photos.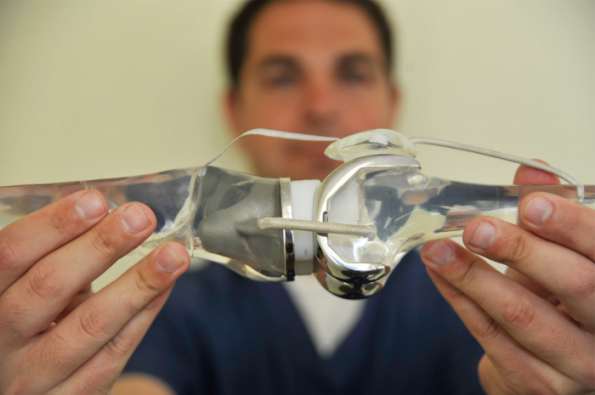 Above: Demonstration of an artificial knee replacement.
Terms That Came Up During the Question and Answer Portion of this Particular Training
Revision Surgery – A surgery performed to replace or compensate for a failed implant (as a hip replacement).
Cobalt chrome versus titanium – Both are used in implants, however Cobalt Chrome is considered superior for articulating surfaces since it is smoother and causes less wear; Titanium is often used for non-articulating surfaces, and ceramics is a new technology that is up and coming since it reduces the risk of metal ionization in patient blood streams.
Cross-linked polyethylene – Highly cross-linked polyethylene under the trade name Durasul is used in artificial joints as a wear-resistant material. Cross-linked polyethylene is preferred in hip replacement because of its resistance to abrasive wear.
Biomet Vitamin E – The only polyethylene infused with vitamin E to provide strength and oxidative stability without compromise. Infused with vitamin E, a natural antioxidant, E1® Technology defines a new class of bearings and overcomes the limitations of remelted and annealed polyethylenes by uniting true oxidative stability, high mechanical strength and ultra-low wear.
Femoral stem – The femoral stem component replaces a large portion of bone in the femur, and this is therefore the load-bearing part of the implant.
Bone cement versus Press-fit stem – Press-fit implants have a rough surface in which the surrounding bone can grow. Cemented implants are as solid the day they are put into place as they will ever be.
Hydroxyapatite (HA) – Chemically similar to the mineral component of bones and hard tissues in mammals. It is one of few materials that are classed as bioactive, meaning that it will support bone ingrowth and osseointegration when used in orthopaedic, dental and maxillofacial applications.
Osseointegration – Refers to the direct structural and functional connection between living bone and the surface of a load-bearing artificial implant. It has enhanced the science of medical bone and joint replacement techniques.
Biomet unichondular knee replacement (The Oxford®) – The Oxford® Partial Knee implant from Biomet Orthopedics is designed to repair only one side of the knee (the medial side), making it much smaller than a total knee implant.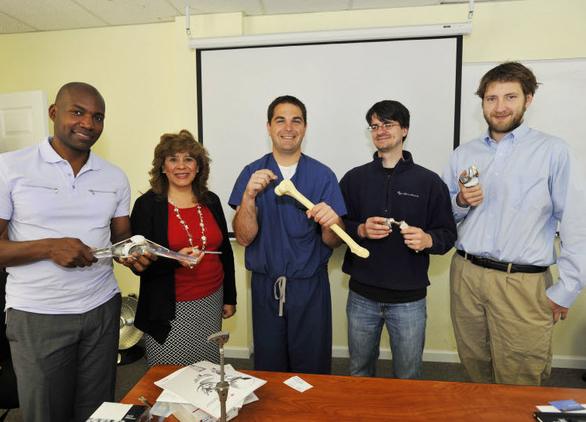 Medialocate's project team for medical instrumentation and implant translations.
Above from left to right, Alejandro Sanchez (Account Manager), Vilma Campos (Quality Systems Manager), Scott McGrew (Senior Localization Engineer), and Joseph Hellebusch (Project Manager) receiving training from Brian Neff, center, (DePuy Surgical Implant Consultant).
Have more questions about better medical translations? With nearly 25 years of experience, our Medialocate team is here to help.
Contact Medialocate at 831-655-7500 or
Email: info@medialocate.com
---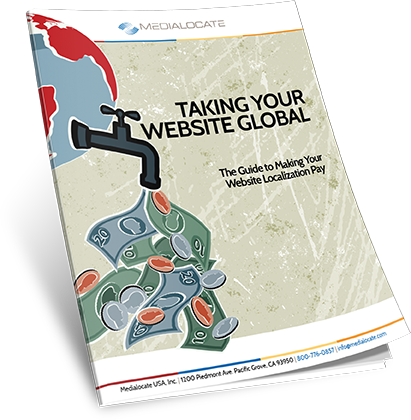 Learn the fast, efficient, and most effective way to translate your website
and online content into additional languages.
---