The City of Monterey, California, officially designated as "The Language Capital of the World®," has announced that its first annual Cultural Festival will take place at Customs House Plaza on May 2 and 3, 2015 from 10 a.m. to 5 p.m. MediaLocate is proud to be a sponsor of this event that celebrates and honors the amazing cultural diversity of the city that was once California's first capital under both Spain and Mexico.
The trademarked slogan of "Language Capital of the World®" for Monterey County was recently approved by the Library of Congress. The slogan has been used for many years to reflect the many institutions involved with international studies and language instruction in Monterey County.  Nearly 25 percent of the nation's post-secondary learning in languages other than English take place in Monterey County. Organizations here also play a major role in delivering translation (written word) and interpretation (spoken word) services around the globe. Of course, Monterey County is also a very popular destination for visitors from all over the world, and Monterey's languages and cultural diversity are reflected in its Native American, Chinese, Filipino, Italian, Japanese, Mexican, Portuguese, Spanish and Vietnamese roots.
In its role as the premier, truly local language services provider in the Monterey area, MediaLocate actively supports, draws on and fosters talent from local educational institutions such as the Middlebury Institute of International Studies at Monterey and the Defense Language Institute. With its multinational, multilingual team hailing from all four corners of the globe – Mexico, Germany, China, Brazil, Canada, Cuba, Ireland, Spain, Argentina, Slovakia, Turkey, Russia, Korea, the Philippines and Austria, MediaLocate is a natural to support this first-ever family-oriented multicultural event.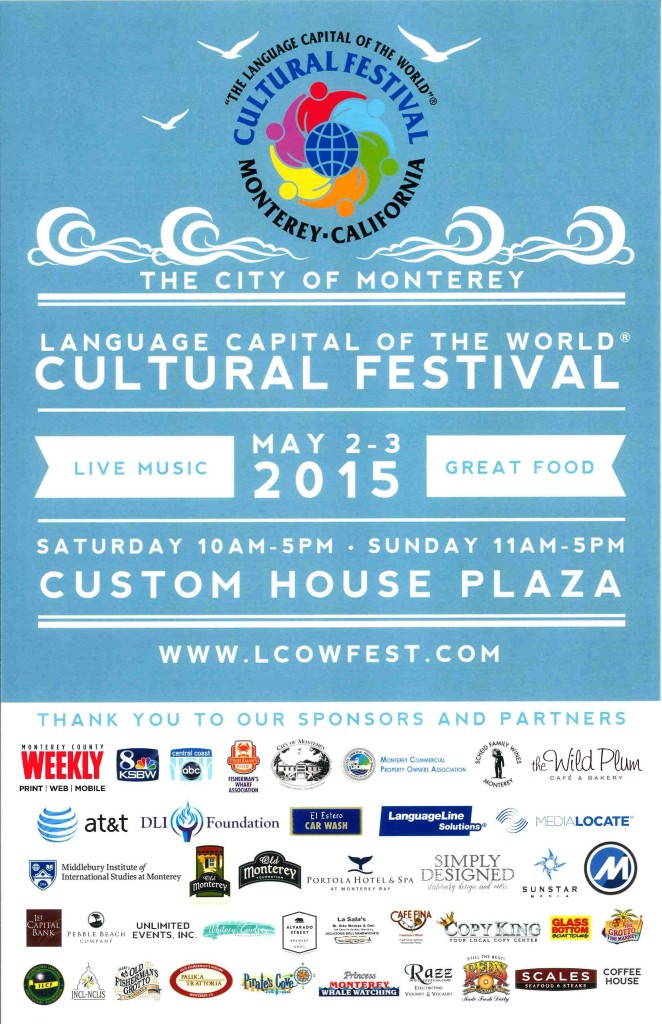 For additional information, please see the websites of the City of Monterey or the Language Capital of the World Cultural Festival.
Related News: